Our cellar masters: Thierry, Philippe and Moran
Wine safekeeping, ageing and storage near to Paris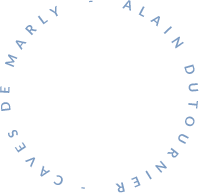 Morgan, the cellar's walking encyclopaedia!
Les Caves Marly contain a real gem: 3 km of underground galleries, i.e. nearly 10,000 m2, kept at a constant temperature of 10°C. These ancient chalk quarries used for Paris Haussmann sites offer an exceptional natural setting to store your wines and age them in optimal temperature and humidity conditions. 
Naturally, Les Caves Marly also enjoy optimal security. 
Our team is ready to answer any questions about prices for safekeeping which will be sent to you after you contact us.
Storage method:
Considering the temperature (constant 10°) and the humidity of the cellars, we lay the bottles (labels always covered with film) in stackable tanks with openwork walls to avoid the moisture of cardboard and wood containers. The amount stored does not allow us to keep your empty packaging.
Mandatory government requirement:
All wines must be delivered to Les Caves de Marly with a duty-paid cap (CRD) or accompanied with a SAD (Simplified Accompaniment Document).