Our cellar masters: Thierry, Philippe and Moran
Wine sales near to Paris 
"Since my childhood, the vines at the family inn and the process always fascinated me. I still love to taste a new vintage or a lesser-known wine.
The diversity of our historic and geographic wine heritage is passed on by uncorking and sharing characterful wines. So through our olfactory, taste and emotional memories, we often ask the eternal question - with what? But above all, it's more often - with whom?
In this cellar, I have gathered lesser-known and secret wines, some rare vintages, well-known and tried-and-tested labels, but also the best of up-and-coming estates…
These are currently my REFERENCES but above all my PREFERENCES, but I still believe that I will drink the best bottle... tomorrow"
Alain Dutournier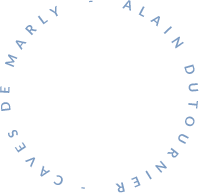 Our favourites
We offer our favourites from travels through the French vines in all their diversity and richness. Favourites gleaned from meetings with owners and producers, wine growers with passion running through their veins. And if you want to chat with these professionals and cellar masters, Les Caves Marly organises sales & tastings on Saturdays. Your purchase can become a real experience.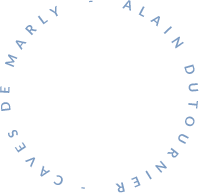 Collector Space
Thierry...... experience and wisdom!
Moran....... the off-the-cuff matchmaker!
Philippe.... the science of tasting!
Some 650 bottles amongst the most prestigious references are gathered in this hidden space, reserved for wine lovers accompanied by a cellar master. Sometimes unique bottles, legendary crus, these bottles are carefully looked after.
A magical place for any wine lover…
For security and storage purposes, these real treasures can only be purchased on site. 
To serve and honour wine as it deserves, Les Caves Marly offers Lehmann glasses and Spiëgelhau carafes for sale.
LEHMANN "PREMIUM" glasses
Champagne glass - 28.5 cl
Box of 6.
LEHMANN "GRAND CHAMPAGNE" glasses
Champagne glass - 41 cl
Box of 6. Glasses
LEHMANN "GRAND BLANC" glasses 
76 cl - box of 6. 
SPIËGELAU "Casual" carafe
Holds 1.4 litres