Sales, tasting, and safekeeping of wines near to Paris
Here, a team of professionals invites you to discover and purchase bottles from a selection of 1,500 wines from estates across France. Leading vintages, exceptional bottles, secret productions, character wines, forgotten varieties, organic wines, Champagne... the view is impressive! 
Morgan, the cellar's walking encyclopaedia, always ready to present original wines with talent.
Philippe, a subtle expert in tasting and the knack for finding value for money.
Moran, naturally spontaneous with his advice, ubiquitous in his role as peerless matchmaker.
Thierry, with his Occitan accent, guides you with wisdom and experience to a bottle which offers a lasting memory of Flavours.
Les Caves Marly has everything for knowledgeable wine lovers, connoisseurs and amateurs alike.
The deep underground galleries enjoy optimum temperature (10°C) and humidity conditions for storage and ageing. Perfectly secure, Les Caves Marly is an ideal solution for storing and ageing wines without UV or vibrations.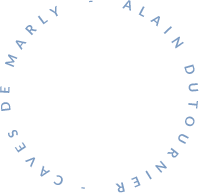 Professional advice and sharing
On your arrival at Les Caves Marly you are taken in hand by a team of experts who guide and advise you on your wine purchase. For a gift, special occasion or just to discover new wines, they will listen to your tastes and expectations to guide you towards the best choice. Even better still - they reveal lesser-known terroirs and share their meetings with wine growers with exemplary know-how.
Expertise at your service
Some examples:
Wine and meal pairing
Gift boxes
Creation of a made-to-measure cellar depending on your budget
Looking for an old Armagnac (from your year of birth, for example…)
Discovery of secret crus from the major wine growers
Practical information
Les Caves Marly
29 bis, route de Versailles 
78560 Le Port-Marly 
Telephone: +33 1 39 17 04 00
Fax: +33139161173 
E-mail: contact@cavesdemarly.com
Free private parking
Opening times:
Tuesday to Saturday: 10am
to 7pm without breaks
Annual closure:
From Suaturday 3 August to Monday 26 August inclusive
exceptional closures in 2019 :
May 1st, May7, May 8, May 30, May 31, November 1st, December 24,25,31